Independent physical game publisher 1Print Games is excited to announce its next three physical releases for the Nintendo Switch, featuring award-winning titles Neo Cab, Eternal Radiance, and Paradise Killer.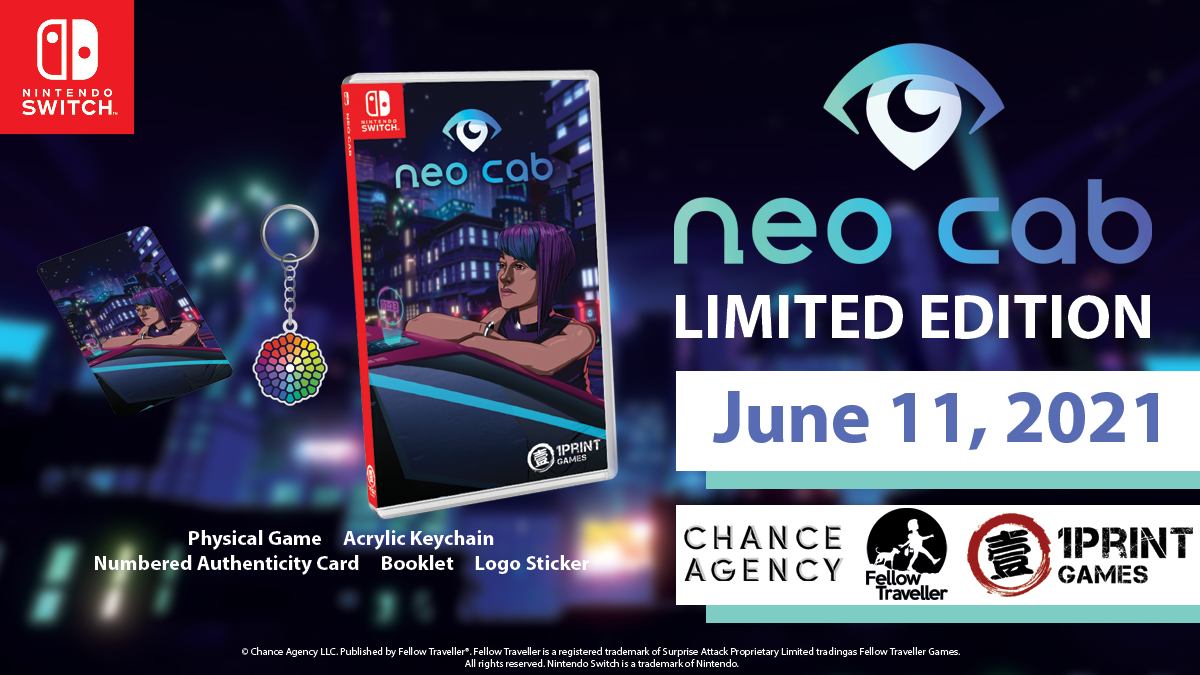 Chance Agency and Fellow Traveller's emotional survival game Neo Cab, praised for its storytelling and gameplay, is getting a Limited Edition exclusively via 1Print Games. The Neo Cab Limited Edition, limited to 3000 units worldwide, launches June 11, 2021 for USD34.99. The Limited Edition includes a copy of the Nintendo Switch game, inner cover artwork, Feelgrid Acrylic Keychain, Neo Cab Driver's Manual, Neo Cab Numbered Authenticity Card, and Neo Cab Logo Sticker. Order the Limited Edition now at 1Print Games.
Neo Cab is an emotional survival game about gig labor, tech disruption and the experience of being a driver-for-hire. You play as Lina Romero — a daring, empathetic young woman hustling to survive as one of the last human cab drivers in an autonomous world. Navigate the neon-drenched streets of Los Ojos from the Neo Cab map. Choose your passengers— and your words— wisely. You'll need to balance your cash, star rating and emotional health to survive in this town.
Besides Neo Cab, fans and physical collectors can look forward to two more Nintendo Switch physical titles in the coming months – Visualnoveler's action driven RPG Eternal Radiance, as well as Kaizen Game Works' critically acclaimed open world mystery adventure, Paradise Killer.
1Print Games' next three titles – Neo Cab, Eternal Radiance, and Paradise Killer, are now available to pre-order in a triple set at the 1Print Games website. Eternal Radiance and Paradise Killer will be available individually in the coming months.
Links
Neo Cab (Nintendo Switch) product page
Neo Cab, Eternal Radiance, and Paradise Killer (Nintendo Switch) product page
About 1Print Games
1Print Games is an independent publisher of physical indie games for Nintendo Switch established in 2019 by life-long Nintendo fans and gamers Iggy and Nitro. 1Print Games is a publisher that seeks to deliver high quality products and celebrate awesome indie games with everyone around the world.
About Chance Agency

Chance Agency is a team of artists, writers, musicians and programmers whose past work includes Firewatch, The Misadventures of P.B. Winterbottom, Where the Water Tastes Like Wine, Guild Wars 2 and Reigns: Her Majesty.
About Fellow Traveller
Fellow Traveller is an indie games label exploring what narrative games can be. Passionate about the vast and untapped potential of games as a story-telling medium, its mission is to seek out pioneering game developers working on unusual games with narrative at their core, help these developers bring their creations to the world and to connect them with players looking for something different.
You may know them for the cyberpunk taxicab confessional (Neo Cab), the hacking game using real Unix commands (Hacknet), the surveillance thriller series that puts you in the shoes of Big Brother (Orwell) or the upcoming noir adventure set before during and after the Big Bang (Genesis Noir).
About Visualnoveler
Visualnoveler is an indie developer based in Taipei, best known for Eternal Radiance and Ascendant Hearts.
About Kaizen Game Works
Kaizen Game Works is a UK based independent game studio formed in 2018 by two games industry veterans. Drawing on their experience working on BAFTA winning AAA narrative games and wildly popular high end mobile games, Kaizen want to change the rules around game narratives and how players experience them. With a focus on player agency and story interaction, Kaizen want to allow players to craft their own tales and express themselves within games.